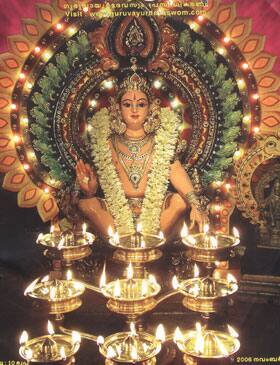 There is a Sastha temple in Kulathupuzha. The entrance of the sanctum sanctorum is too small that only children can enter. This is 50 km from Sencottah. The Vidyaramba event – beginning the education of children when they attain the age of five is celebrated here in an elaborate and orthodox way. Writing training is given on this day. As Sastha graces children here, He is praised as Kutty Sastha-Small Sastha.

SARANA KOVAI CHANTING

Those undergoing fasting for the Sabarimala pilgrimage, should bathe twice each day during the period and chant the 108 Sarana Names of Lord Ayyappa. As a rule this should be sung in a soft voice without causing nuisance to others. It is believed that this will please the Lord and reward the devotee his wishes. Chanting the Sarana Kovai will help the devotee fresh in mind and body.

MAPPILLAI AYYAPPAN – (Ayyappa the Son-in-law)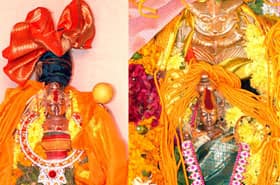 Lord Sastha is a strict Brahmmachri (practicing celibacy) in Sabari Hills. But He is a Gruhastha (family way) in Ariangavu, 20 km far from Sencottah. He appears here as son-in-law with His consort Pushkala. This is the place where Pushkala, the family deity of the Saurashtra community merged with Sastha here. Their wedding festival is celebrated here during December each year. Lord Sastha appears on an elephant possessed with murderous frenzy which He brought under control with His might, hence, praised as Matha (wild) Gaja (elephant) Vahana Rupan – using it as His vehicle.

DHEEPA (LAMP) WORSHIP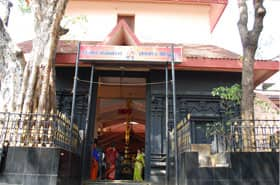 Coimbatore has an Ayyappan Temple in Siddhapudur resembling the Sabarimala shrine. Pujas are performed by Namboodris as per Sabarimala rules. There is a raised platform in the temple prakara where devotees light ghee lamps for removal of evil spirits. There are shrines for Lord Guruvayurappan, Mother Bhagavati, Sri Anjaneya and Brahmmarakshasa.

LORD AYYAPPA IN CHENNAI

Lord Ayyappa has His shrine in Lord Kachaleeswarar temple in Armenian street in Chennai near Parrys Corner. While on their pilgrimage to Sabarimala, devotees in Tamilnadu took an idol ofn Ayyappa for pujas on their way. They did pujas in this temple also. When they wanted to take the idol from here to proceed on their pilgrimage, they could not get the permission for three days to take it back. Remembering this event, a separate shrine for Lord Ayyappa was built here. All pujas are performed here as in Sabarimala including the Makara Jyothi festival.

VILWA LEAF WORSHIP

Lord Ayyappa born as the son of the combined powers of Lord Shiva and Lord Vishnu graces in the Villages of Tamilnadu as Aiyanar. He is praised as Sevuka Perumal in Singampunari in Sivaganga district. As the son of Shiva, He is worshipping Vilwa leaves in this temple. Wearing a crown and sitting in Veerasana form, He graces with His consort Pushkala Devi. Lord Shiva is a Swayambumurthi and graces with Mother Poovai Valli. This is a temple where devotees enjoy the darshan of both Father and Son – Lord Shiva and Lord Ayyappa.