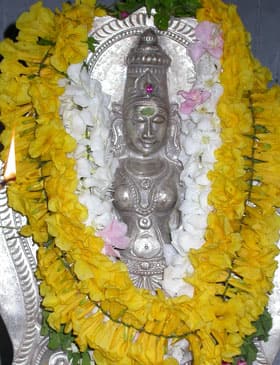 Lord Ayyappa temples are built in many places in the country spreading his worship. One such is in Vilacheri in Madurai established by one Vishnu Namboodri as per Deva Prasna – a heavenly order. His Holiness Sri Abhinava Vidyatheertha Swamiji, then pontiff of Sringeri Shri Sharada Peetam laid the foundation for the temple in the year 1980. It took six years to complete the construction. Lord Ganapathy, Lord Ayyappan, Mother Durga and serpent Gods (Nagar) were installed in the temple. The consecration of the temple took place on July 13, 1986 with Kallur Madhavan Namboodri heading the rituals. The Dwaja Sthamba-flag post- Kodimaram in Tamil was installed in June 2001 and the Navagrahas the nine planets in the year 2005.

Ganapathi Homam is performed every day in the temple. 3 pujas for Lord Ayyappa and two pujas for Mother Durga Devi each day are performed by Namboodris. Pujas and festivals as Sakthi Kalasam in Karthikai-Margazhi covering December to January, Ezhu Nellipoo, Sribhoodha Bali, Pani, Utsav Bali, Palli Vettai, Aarattu, and Annadhanam-feeding are followed in accordance with Sabarimala traditions.

The temple was further extended at a cost of Rs. 45 lakhs. Lords Muruga, Shiva and Guruvayurappan were installed in the temple and the consecration was conducted on July 15, 2007.

Plans are ahead to construct a Rajagopuram, lodging facilities, meditation hall, auditorium and residences for the employees at an outlay of Rs. 60 lakhs.

There are also plans for daily feeding, medical aid and run Sanskrit and Tirukkural classes.

Devotees may contact The Treasurer, Sri Ayyappa Seva Sangam, 175, Vilacherry Main Road, Madurai 625 004, in connection with renovation information. Phone: 0452-237 1870.

The temple is 6 km far from Madurai Central Bustand and the devotee has to get down at Saurastra College stop.

SCHOLAR OF ALL ARTS

Scholars are mentioned in Tamil as Naalum Arindhavar. Naalu in Tamil in this context means the four Vedas – Rig, Yajur, Sama and Atharvana. Lord Ayyappa is a master of all Vedas, because He explains this through four Asanas and four Symbols-Mudras.