Pandalam
Pandalam is on the link road connecting Thiruvananthapuram 88 km from Sabarimala and Kottayam. The family temple of the king of Pandala is here. It is noteworthy that the Jewel Box – Thiruvabarana Petti – begins its journey to Sabarimala on the Makarajothi day from this place. The box reaches Sabarimala on the first day of Thai month – almost on 14th January. These jewels are worn to the Lord only on this day when Lord Aiyappa grants darshan as a Jyothi.
One box contains jewels like Rathna Makudam – Crown of Gems, Noopuram-anklets, Aaram-chains, Kadagam for shoulders, anguliams the rings and padhakkam the necklace. The other box contains jewels for Maligai Purathu Amman. The most significant feature is the accompaniment of eagles-Garudas flying with the bearers of the boxes during the journey to Sabarimala. The jewels are worn to the lord during the sunset time on the Sankranti day offering Aarti. To have this darshan of the Lord from Pathanamthitta (10 Km), Aramula (10 Km) and Erumeli (52 km) state and private buses are available. There are also bank and petrol station facilities on the way.
Kulathupuzha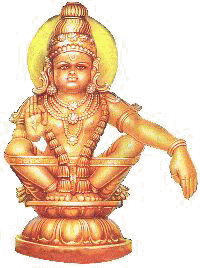 Lord Aiyappa is a young lad in His wedding posture in this temple. The temple, 66 km from Thiruvananthapuram is close to Tamilnadu. Kerala state buses are available from Shencottah to Ariankavu. According to one story, it is here that a woman Pushkaladevi belonging to Madurai merged with the Lord. Therefore, the people of the Saurashtra community of Madurai, claiming Sambandhi relationship, conduct the wedding festival to Lord Aiyappa each year in this place with a banquet. Devotees throng the place in huge numbers on this occasion.

Philosophy of Makara Jyoti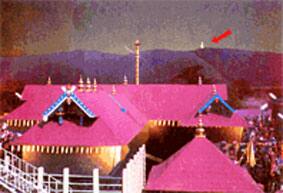 Worshipping God through idols ought to have started only in later days. There were no metals available for making idols in those days. Sculpture art grew gradually only in later days. People relied on light for worship with Sunlight. When people understood that there was a supernatural power guiding them, they began to see God only in the form of a light. It is on the basis of this philosophy that revered saint Ramalinga Vallalar addressed the Lord Arutperunjothi-Blessingful Light. Even today, we see Lord of Tiruvannamalai in the form of Light. Karthikai Deepam festival also is celebrated on this basis of this philosophy. So Lord Aiyappa grants His Darshan in the form of Jyoti on the Makara Shanti day from Ponnambalamedu.